Explore real-world data from TriNetX in your own environment
About TriNetX Licensed Data Sets
To understand the patient journey, you may need to dive deeper than aggregate counts and means. Spanning domains from diagnoses to genomic variants, our data sets attribute every observation to a pseudonymized patient ID, encounter, and date, making it straightforward to build robust longitudinal pictures of today's patients. We deliver the data in a universal, ready-to-use format—linked CSV tables—to give you the freedom to analyze on any application you choose.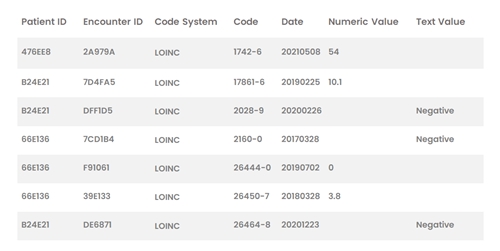 Our linked data sets combine data sourced from EHR and insurance claims into a single, longitudinal record - for each one of the 7.4 million patients represented in both sources. Secure and rapid tokenization allows us to match EHR and claim records on a per-patient basis without ever accessing or exposuring personally identifying information. The result is a robust record that follows a patient across time and between providers, bringing demographics, clinical observations, treatment details, and costs under one view. By further linking with federal death registries and private obituaries, we support analyses of long-term survival in addition to the full array of HEOR, efficacy, and safety analyses.
Use Cases
Incidence and prevalence
Long-term safety and efficacy
Treatment patterns
Drug adherence and persistence
Burden of Illness
Cost of care
Disease Progression
Overall survival
Key Data Elements
Demographics
Diagnoses
Procedures
Medications
Labs
Encounters
Enrollment
Claim headers & lines
Costs
Rx fills
Curated Oncology Data Sets
TriNetX Curated Oncology Data Sets delivers rich, CTR-curated oncology data from 17 Centers of Excellence in the U.S. to power precision cancer research. We currently offer breast cancer and lung cancer data sets, drawing data from our healthcare organizations offering cancer registry data, genomics or oncology EMR data.

Use Cases
Feasibility
Site Identification
Survival
Patient recruitment
Burden of illness
Disease progression
Incidence and prevalence
Long term outcomes
Long term effectiveness
Treatment pathways
Patient journeys
Real-world evidence generation from
co-morbidities to treatment landscapes
Key Data Elements
Structured EHR data
Labs
Stage and Grade
Histology
Genomics
Biomarkers
Surgery
Chemotherapy
Radiation
Immunotherapy
Hormone Therapy
Clinical Notes via NLP
Death Registries
Curated Oncology Data Delivered
Learn more about our Curated Oncology Data Sets and Global Oncology Network
Dataworks is our largest single resource for data sets built from EHR data enriched with labs and mortality data. Patients in Dataworks represent all 9 U.S. census divisions and show an average of 55 diagnosis codes, 37 procedure codes, 211 medication codes, and 124 lab results. More than 20 million patients have records that extend at least five years.
Use Cases
Conduct precise time-to-event analysis
Track in-clinic medications and procedures
Compare multiple cohorts at once, along any number of characteristics
Reconstruct individual patient histories
Follow changes in lab values
Train predictive models using thousands
of well-represented patient co-variates
Key Data Elements
Demographics
Diagnoses
Procedures
Medications
Labs
Encounters
TriNetX Open Claims data sets are built to close data gaps and provide insights throughout the product lifecycle, including market analysis and forecasting. Claims are sourced from clearinghouses that have processed more than 4 billion medical and pharmacy claims for over 300M patients since 2014; data is refreshed daily to enable an up-to-date understanding of market access and treatment trends. Payer ID and name let you analyze payer dynamics for any patient population and treatment.
Key Data Elements
Claims
Diagnosis
Physician Information
Patient Characteristics (SDOH)
Plan Information
Use Cases
Understand market opportunities and barriers to patient access
Inform study design and eligibility
Evaluate post-launch performance quickly and precisely
Our Key Opinion Leader (KOL) activity reports detail which physicians are treating which patients, by condition, drug, and provider specialty. Each physician in your customized report is identified by NPI, full name, mailing address, phone number, and email address when available. We generate our KOL activity reports from up-to-the-day, open claims data representing 1.8 million providers at more than 300,000 health care facilities, from academic and acute care hospitals to outpatient clinics. As a group, these providers are submitting claims that cover 98% of US payers.
Use Cases
Optimize site selection with diagnosis
and treatment patterns by geography
Equip MSLs with provider profiles
Key Data Elements
NPI
Full Name
Mailing Address
Phone Number
Email address
(when available)
Provider taxonomies
Bring Your Own Data covers a range of services that allow you to enrich and explore data you already own. With privacy-preserving tokens, TriNetX can add EHR, tumor registry, genomic, claims, and mortality data to the de-identified records you bring to us. We can deliver the integrated records as a set of .csv tables and/or host the data on our platform for easy querying and analysis.
Use Cases
Combine SDoH, wearables data, and patient-reported data with EHR and claims data
Add medical history data to trial participants you have tokenized
Uncover post-trial clinical events for trial participants