Explore real-world data from TriNetX in your own environment
About TriNetX Licensed Data Sets
To understand the patient journey, you may need to dive deeper than aggregate counts and means. Spanning domains from diagnoses to genomic variants, our data sets attribute every observation to a pseudonymized patient ID, encounter, and date, making it straightforward to build robust longitudinal pictures of today's patients. We deliver the data in a universal, ready-to-use format—linked CSV tables—to give you the freedom to analyze on any application you choose.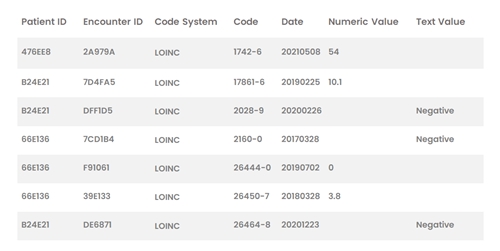 Our linked data sets combine data sourced from EHR and insurance claims into a single, longitudinal record - for each one of the 11.2 million patients represented in both sources. Secure and rapid tokenization allows us to match EHR and claim records on a per-patient basis without ever accessing or exposuring personally identifying information. The result is a robust record that follows a patient across time and between providers, bringing demographics, clinical observations, treatment details, and costs under one view. By further linking with federal death registries and private obituaries, we support analyses of long-term survival in addition to the full array of HEOR, efficacy, and safety analyses.
Use Cases
Incidence and prevalence
Long-term safety and efficacy
Treatment patterns
Drug adherence and persistence
Burden of Illness
Cost of care
Disease Progression
Overall survival
Key Data Elements
Demographics
Diagnoses
Procedures
Medications
Labs
Encounters
Enrollment
Claim headers & lines
Costs
Rx fills
Dataworks is our largest single resource for data sets built from EHR data enriched with labs and mortality data. Patients in Dataworks represent all 9 U.S. census divisions and show an average of 55 diagnosis codes, 37 procedure codes, 211 medication codes, and 124 lab results. More than 20 million patients have records that extend at least five years.
Use Cases
Conduct precise time-to-event analysis
Track in-clinic medications and procedures
Compare multiple cohorts at once, along any number of characteristics
Reconstruct individual patient histories
Follow changes in lab values
Train predictive models using thousands
of well-represented patient co-variates
Key Data Elements
Demographics
Diagnoses
Procedures
Medications
Labs
Encounters