Your trusted source for real-world analyses crafted from longitudinal, representative real-world data for oncology care across Europe
TriNetX Oncology GmbH is your trusted source for TherapyMonitor – comprehensive analyses revealing current disease prevalence, treatment patterns, and market dynamics based on longitudinal, indication-specific patient level data.
TriNetX Oncology GmbH collaborates with renowned medical experts and pharmaceutical leaders to generate fit-for-purpose database specifications to match the desired study objectives scoping for oncological and rare-disease indications. By gathering complete, representative, and high-quality data, TherapyMonitor reflects the variety of cancer care across the continent.
TherapyMonitor Projects are developed from longitudinal, indication-specific, structured and unstructured, highly curated patient-level data, including:
Comprehensive individual patient demographics and disease characteristics
Highly granular diagnostics and cytogenetics data, therapy and drug-specific data including timestamps for all therapy events modifications
Detailed information on outcomes, assessment method and progression and/or relapse definition according to clinical guidelines including caregiver definition. The outcomes are available for each separate treatment line
Institutional characteristics and patient clinical pathway
including Germany, France, Spain, and United Kingdom
hematological diseases and solid tumors
rich in patient and disease characteristics, treatment history, outcomes assessments/definition of progression and relapse, and institutional data
Regulatory-grade data based on representative samples of patients and healthcare organizations in each country of scope
TriNetX Oncology's flagship TherapyMonitor is based on the collection of thousands of variables per patient along their treatment journey, tracing back to the initial diagnosis of the disease in question. In TherapyMonitor, all patient data is rendered fully anonymous.
based on regional epidemiological research and healthcare structure assessment, representing the distribution of treated prevalence to applicable healthcare sectors
Analysis precision: 95% CL / 05% CI
Ongoing TherapyMonitor Projects
Multiple Myeloma (MM)

Countries: Germany

Running Since: January 2016

Chronic Lymphocytic Leukemia (CLL)

Countries: Germany, Spain

Running Since: January 2022

Diffuse Large B-Cell Lymphoma (DLBCL)

Countries: Germany

Running Since: January 2020

Myelofibrosis (MF)

Countries: Germany

Running Since: January 2020

Myelodysplastic Syndromes (MDS)

Not started yet 
Inside a Hematological TherapyMonitor Report
TherapyMonitor is scalable in terms of indication and region, allows for fit-for-purpose research focused on specific target populations, and is based on fully anonymized data.
Baseline/Demographics
Treatment Decision and underlying reasons, Demographic Variables, Insurance Information
Initial Diagnosis
Patient and Disease Characteristics, Staging/Grading, Symptoms, Performance Status, Concomitant Diseases, Risk Assessment, Cytogenetics/Genetic Biomarker
Current Status Quo
Current Therapy status (Ongoing, Paused, Remission, Deceased/LTFU), Update/Change on Sociodemographic Variables, Compliance Assessment, Planned Therapy in Case of Disease Progression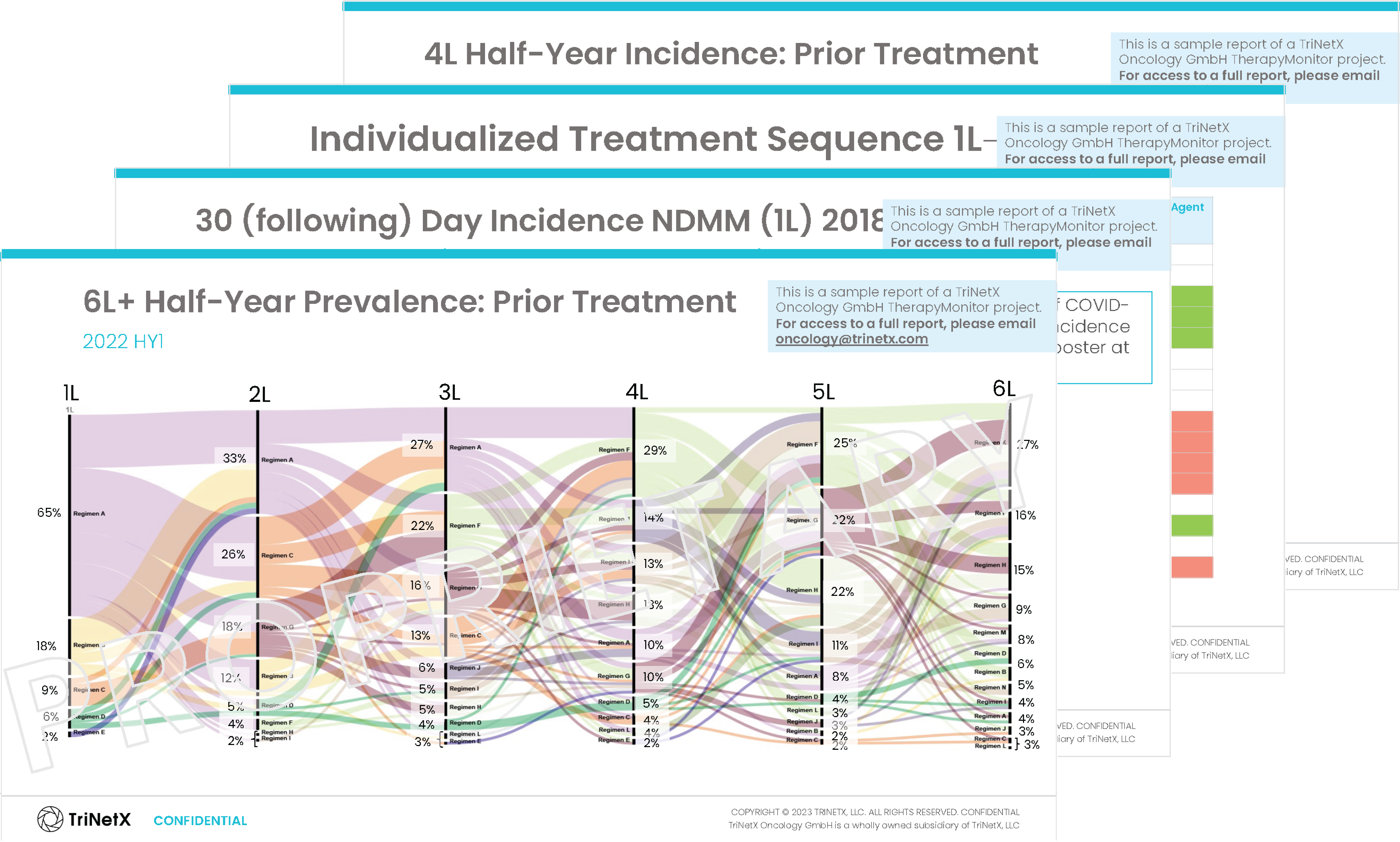 Reported for each line of treatment:
Induction Therapy
Exhaustive documentation based on single agents approved in Europe, Free regimen composition
Stem Cell Transplantation Measures (if applicable)
Stem Cell mobilization, High-Dose Therapy, Stem Cell Transplantation, Consolidation Therapy, Maintenance Therapy
CAR-T Therapy Measures (if applicable)
Leukapheresis, Bridging, CAR-T Therapy, Institutional Pathway, Follow-Up Monitoring (Lab Assessments/Imaging), Adverse Events
Supportive Therapy and Adverse Event Prophylaxis
Best Achieved Outcomes/Response Assessments
Download a Sample TherapyMonitor Report
Download a sample of our quarterly TherapyMonitor Report to see the different types of analyses we provide.
---
TriNetX Oncology GmbH is a wholly owned subsidiary of TriNetX, LLC.