Go beyond the patient count with network features that support robust evidence generation.
TriNetX Platform

Features
Combining sophistication and ease, the TriNetX Query Builder puts the power of precision cohort building into your hands. Search and select for required codes and clinical concepts among our vast term library, then apply any temporal logic, exclusions, or qualifications you need. Enforce ranges on everything from patient ages to lab values, filter by data source or country, and more. If you can describe it, then you can build it - then retrieve de-identified patients who match it in seconds.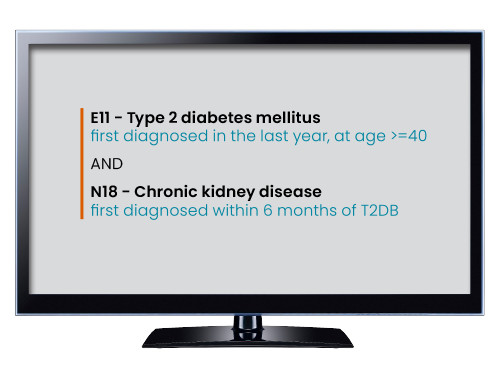 Use Cases
Retrieve patient counts based on study eligibility
Compare counts
Network Capabilities*
*capabilities depend on which network is queried
Ask the healthcare organizations who share their de-identified patient data to participate in your clinical study, right on our platform. Our live regional networks attribute each de-identified patient in your cohort back to their home healthcare organization. Research teams there can then re-identify that patient to present the opportunity your study represents. An intuitive, bulletin-board style exchange securely routes trial documents, CDAs, invites, responses, questions, and answers between trial leaders and research officers, with helpful alerts and organizational tools to manage all communication.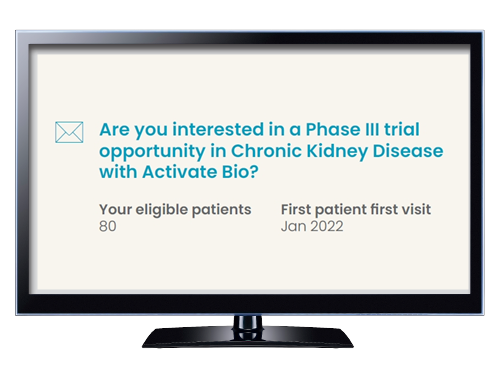 Use Cases
Sponsors and CROs

Gather input on protocols from your most important stakeholders
Identify partners with the experience and patients you're seeking
Help your trial sites enroll by pointing them to the patients who meet eligibility criteria

Healthcare organizations

Stand out to the world's most innovative trial leaders
Attract studies that match your interests, experience, and patients
Easily re-identify patients who meet study criteria
Broaden treatment options for your patients
The full set of base analytics are enabled on every network, except for anonymous networks such as Linked, where HCO attribution is not shown. With Explore Cohort, review the prevalence of diagnoses, treatments, and procedures among your cohort, retrieve lab value means and standard deviations, and count instances of variants by genome. Use Criteria Analysis to rank order your query criteria by the number of patients they disqualify. Rate of Arrival predicts the volume of new patients who will meet your criteria in the next 12 months. Healthcare Organizations (HCOs) displays the number of patients in your cohort treated at each network health system. Summary Statistics provides a geographic visualization of your cohort along with the length of patient records.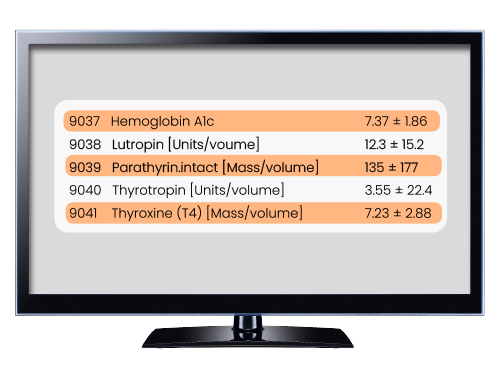 Use Cases
Review cohort co-morbidities
Identify HCOs for trial partnerships
Examine geographic distribution of your cohort
Forecast arrival of similar patients
Assess data completeness
Our Advanced Analytics save you the labor of data preparation and loading for sophisticated statistical analyses. You can now analyze and compare outcomes, reveal treatment pathways, uncover incidence and prevalence, and more with intuitive and statistically robust tools. Generate tables and graphs for presentation outside of our platform.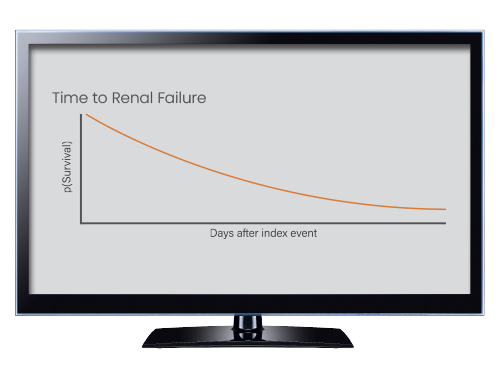 Use Cases
Analyze outcomes (overall risk, Kaplan Meier curves/time-to-event, lab distributions)
Compare outcomes
Treatment pathways
Kaplan-Meier analyses
Discover incidence and prevalence by demographic strata
Publish with TriNetX
Perform Advance Analytics prior to data set downloads to quickly test hypothesis about your cohort
Schedule an Overview
Hear from our team of experts and get a quick overview of our product offerings.
Follow the Patient enables prospective monitoring studies to take place virtually, by monitoring a stable cohort of interest on any of our platform networks. "Enroll" and monitor patients for prospective evidence generation, either concurrently with your interventional trial or as needed. Follow trial participants who consent for long-term outcomes.
Use Cases
Prospective cohort studies — Follow any cohort with a baseline or exposure of interest
Prospective support arm — Follow patients who are like your active drug or control arm patients, but not enrolled in your study (no consent required)
External control arm — curate external or synthetic control arms that supplement or replace the placebo arm of a trial
Long-term follow up of trial participants — Follow trial patients who consent to monitoring of their RWD
Schedule an Overview
Hear from our team of experts and get a quick overview of our product offerings.
Network Capabilities*
*capabilities depend on network of followed cohort
Bring Your Own Model (BYOM) enables researchers to apply and distribute custom machine learning models on global real-world data across the TriNetX network. BYOM can be used to deploy predictive risk scoring to help research teams better understand at-risk cohorts and to perform clustering to find different sub cohorts to study and compare outcomes. 
Use Cases
Find underdiagnosed or misdiagnosed patients for clinical trials
Modify eligibility criteria, study timeline, or endpoints based on predicted outcomes
Predict outcomes
Group ("cluster") patients for risk stratification
Generate safety signals faster in Phase IV studies
Quantify risk of adverse event
Predict need for drug based on patient or population characteristics
Network Capabilities*
*capabilities depend on network of applied model
On-Demand Webinar
From simple scoring formulas to regressions trained with machine learning, data models help us detect patients who may benefit from close monitoring, or who might qualify for a clinical trial. TriNetX has partnered with clinicians and data scientists, among both life science companies and healthcare providers, to realize the potential of these models, supplying the incredible volumes of de-identified data needed to construct them, as well as the global research networks on which to deploy and act upon them.
The TriNetX Diversity Lens enables researchers to evaluate the impact of protocol inclusion and exclusion criteria on the eligible patient population, as well as inform study site selection, with the goal of improving access to clinical trials for underrepresented patient populations.
Use Cases
Protocol design
Site identification and selection
Patient reidentification for recruitment
Increase trial diversity
Network Capabilities*
*capabilities depend on network
On-Demand Webinar
Learn about the new TriNetX Diversity Lens, which helps study designers at life sciences and healthcare organizations evaluate the impact of eligibility criteria on the enrollment of underrepresented patient populations. With these results, study teams can better adjust criteria and seek out partner organizations caring for the patients who qualify for their study.