TriNetX Consulting Services
The right answers to your clinical questions, delivered by TriNetX expertise.
TriNetX Consulting Service Offerings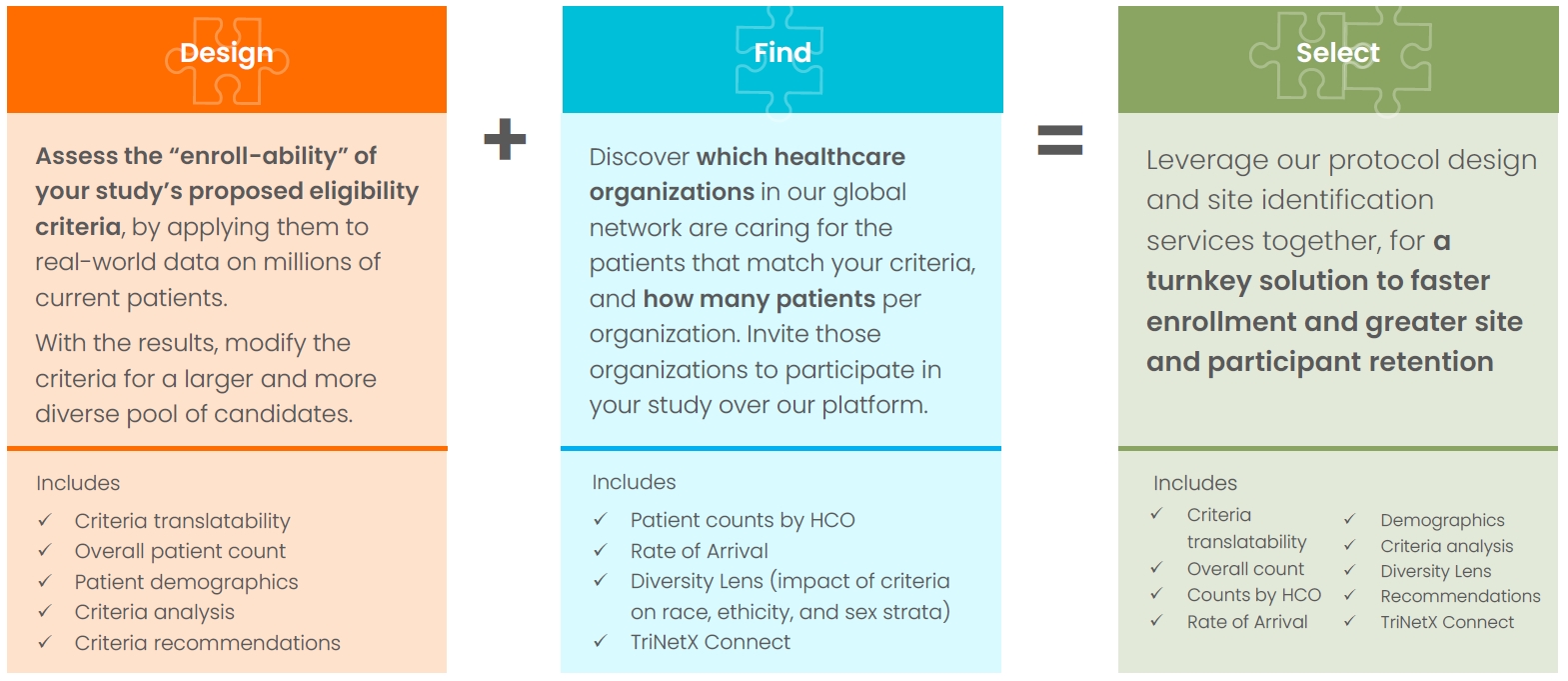 TriNetX Design, Find, and Select are a suite of consulting offerings for custom protocol design, feasibility, and site selection. The TriNetX Clinical Sciences team harnesses a deep knowledge of TriNetX data along with expert command of the TriNetX platform to deliver end-to-end protocol design and site selection using real-time real-world data. With TriNetX Design, our team will help you design and refine your protocol. TriNetX Find delivers a refined look into current and projected patient counts at more than 100 healthcare organization. TriNetX Select combines Design and Find for a comprehensive design, feasibility, and site selection experience.
Use Cases
Criteria translatability
Overall patient count
Patient demographics
Criteria analysis
Criteria recommendations
Patient counts by HCO
Rate of arrival
Diversity Lens
Connect
Leverage protocol design and site identification services together for a turnkey solution to faster enrollment and greater site and participant retention
TriNetX-led chart reviews capture richer data more rapidly, thanks to our long-standing healthcare partnerships, veteran data managers, and real-time cohort discovery tools. Fast contracting and start-up let you enrich data downloads with information available only in physician notes and imaging.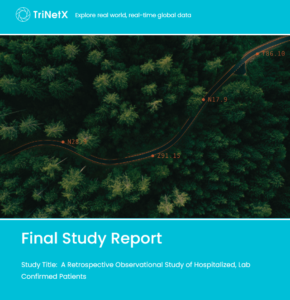 Use Cases
Feasibility
Oncology disease progression
Tumor margins
Performance status
Clinical disease scores
Adverse reactions to treatment
Reasons for treatment change
Schedule an Overview
Hear from our team of experts and get a quick overview of our product offerings.
TriNetX Health Economics and Outcomes Research (HEOR) consulting connects you with subject matter experts on our team who know EMR and claims data. The scientific expertise of our clinical sciences team, which includes health economists and epidemiologists, paired with our unique data asset can help you answer your health outcomes questions. Our team works with you at each step – from writing a protocol, to working with your organization for approval, to analysis and ultimately a final report delivered to your specification. Our research-ready and research-grade data paired with our white glove services allow you to answer your most pressing HEOR research questions.
Use Cases
Safety
Clinical outcomes
Link to claims data can give cost & healthcare burden
Natural history of disease analysis
Outcomes related to treatment patterns & adherence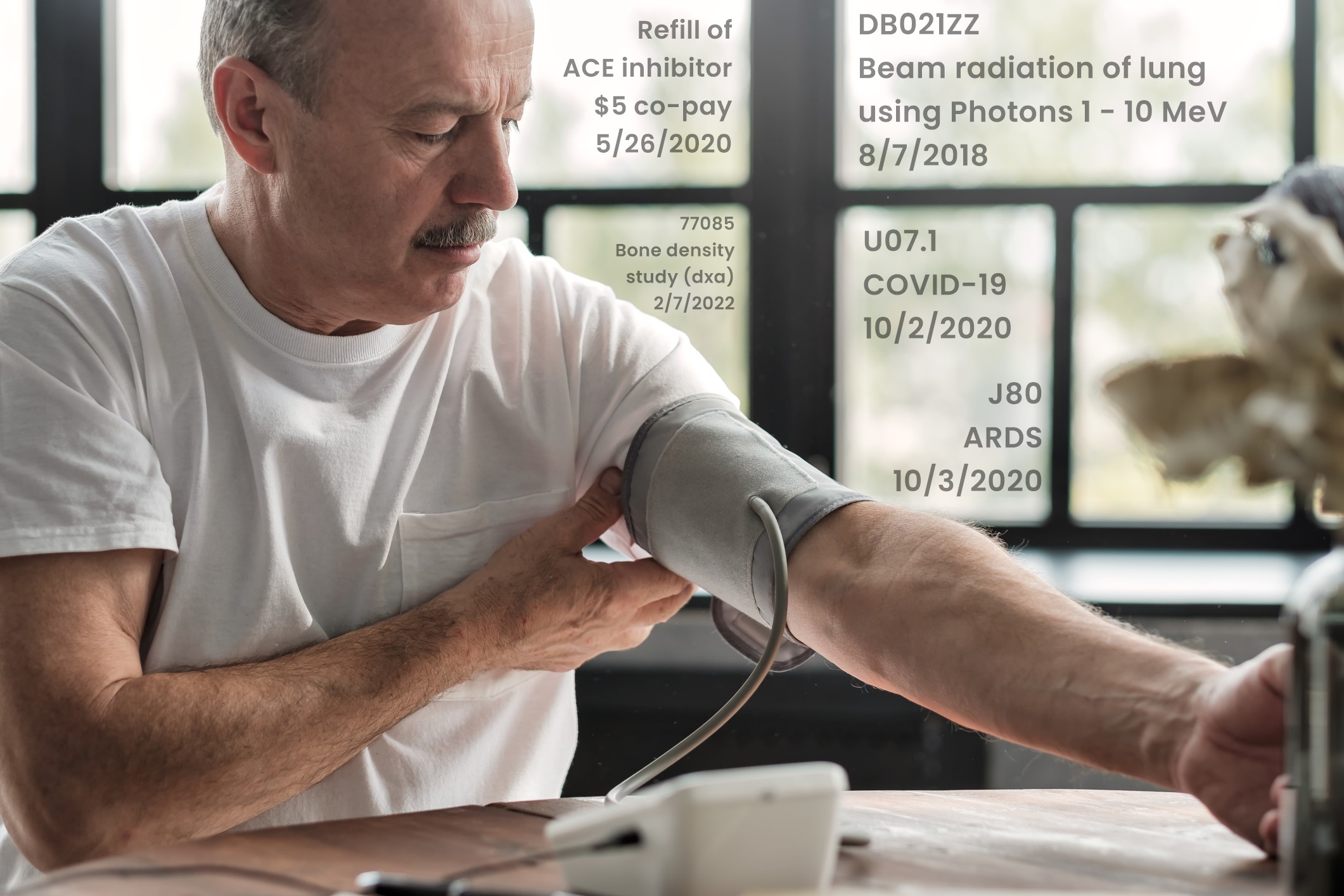 TriNetX data is research-grade and research-ready. No matter the analyses you conduct with TriNetX data, from RWE to HEOR, TriNetX is ready to work with you to prepare and publish abstracts and publications. TriNetX will work with you to conduct the analyses, write the full abstract and/or publication, and submit to the relevant journals and conferences.
Use Cases
Cohort studies of patient outcomes
Clinical support for laboratory findings
Data source for predictive modeling
See all of our publications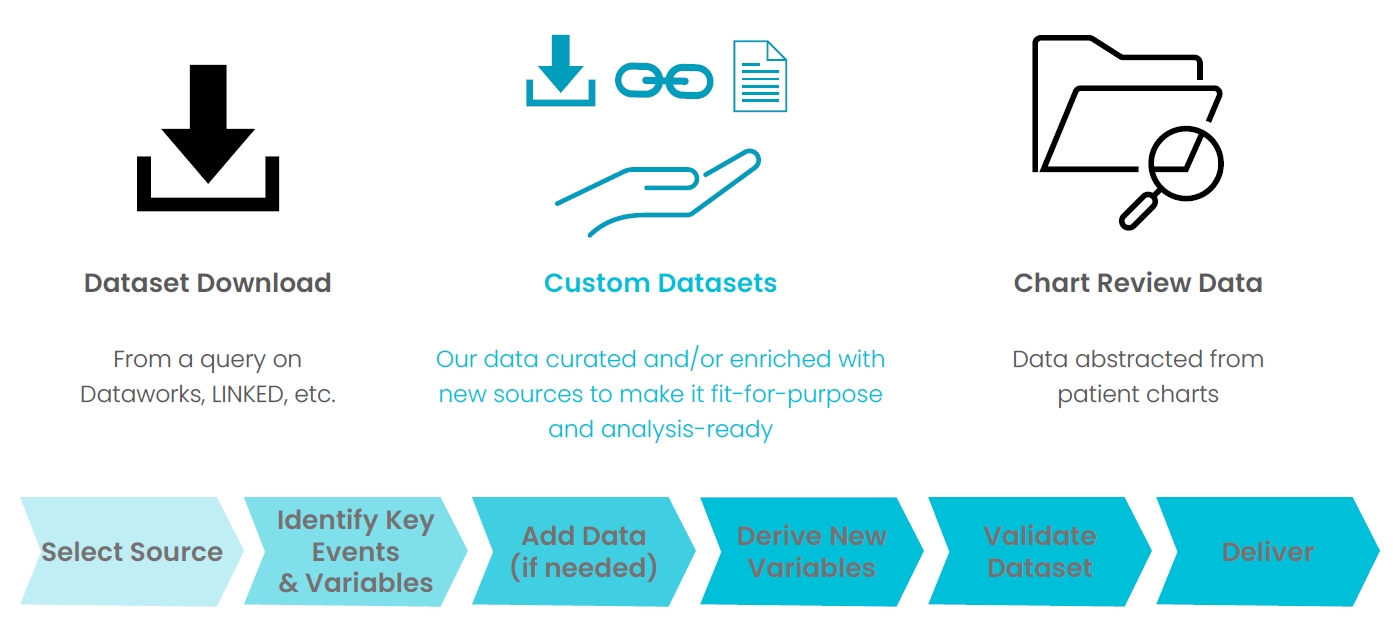 Finding the data you need for your research can be a complex exercise. Large data set purchases often contain data you don't need; identifying appropriate inclusion/exclusion criteria can be time consuming and costly; there may be data sources well-suited to your needs that you haven't identified. Allow TriNetX data and platform experts to take the burden of data curation off your plate. Our team will understand your data needs, build and iterate on a query across our global data network, and ensure that you are delivered one data set suited to your needs.
Use Cases
Reduce need for large data set purchases and further curation of data
Precision curation eliminates the need for repeated and iterative data set downloads
Find symptomatic patients without an ICD-10 code
Identify rare disease patients

Imagine having a TriNetX employee sitting just a desk over to help answer your most complex clinical questions. Staff Augmentation makes that a reality for your team. TriNetX Staff Augmentation provides your team with a dedicated member of TriNetX Clinical Sciences to answer your specific RWD and research questions. TriNetX can schedule large-scale trainings according to your team's schedule, and weekly meetings ensure that ongoing real-world evidence initiatives are meeting their milestones.
Use Cases
Guidance for translating protocol inclusion and exclusion criteria
Platform training for entire teams
Tailored assistance for Advanced Analytics
Support for defining cohorts