Home > Solutions > Platform
Our web-based platform, TriNetX Live, puts you at the center of our real-world data and evidence ecosystem. With an interface that's as powerful as it is easy to use, you can build and analyze cohorts drawn from around the world in just minutes. When you're ready to invite these patients into a study, connect with their healthcare providers with a few clicks.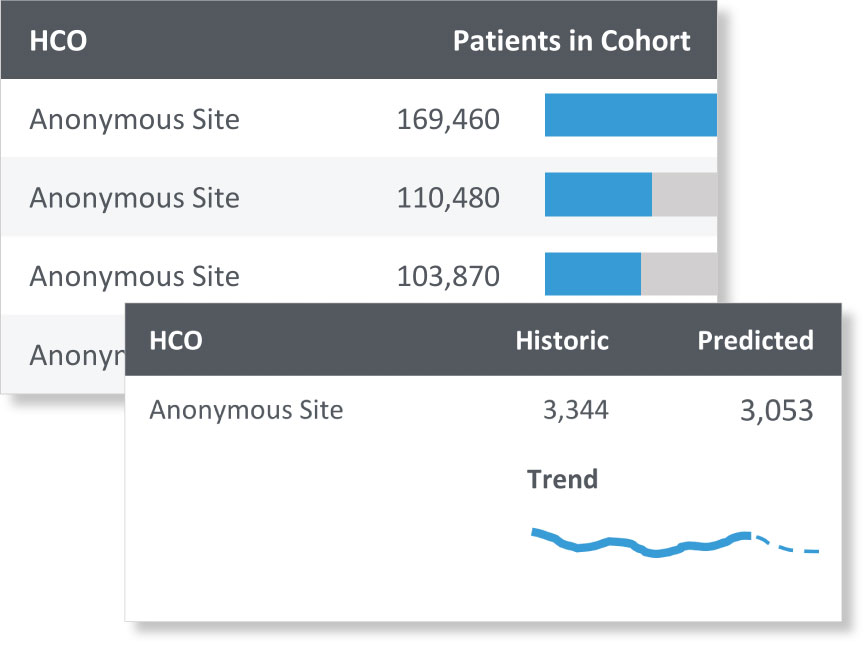 Global
Spanning 18 countries in the Americas, EMEA, and APAC, our largest federated network harmonizes data from EHR enriched with lab values and genomic reports. Most contributing healthcare organizations refresh their data monthly.
---
Patients
>160M
Healthcare Organizations
>125
Countries
18 (Australia, Belgium, Brazil, Bulgaria, Germany, India, Israel, Italy, Lithuania, Malaysia, Poland, Singapore, Spain, Taiwan, UAE, UK, US)
Supported Features
Advanced Analytics
TriNetX Connect
USA
Explore the freshest data on patients across the United States. Find the exact cohort you're looking for among pediatric and adult populations in all nine US census regions, from academic medical centers and community hospitals.
---
Patients
>130M
Healthcare Organizations
>70
States
29 states plus D.C.
Supported Features
Advanced Analytics
TriNetX Connect
USA & Asia-Pacific Spotlight
Broaden your reach with patient data sourced from renowned institutions in Australia, India, Malaysia, and Taiwan.
---
Patients
>135M
Healthcare Organizations
>75
Countries
6 (Australia, India, Malaysia, Singapore, Taiwan, US)
Supported Features
Advanced Analytics
TriNetX Connect
Latin America
Our Latin America Network represents the majority of all healthcare seekers in Brazil, enabling powerful population-level research.
---
Patients
>140M
Healthcare Organizations
5
Data Partners
1

Countries
1 (Brazil)
Argentina, Chile, Colombia, and Mexico coming to the network soon
Supported Features
Advanced Analytics
TriNetX Connect
Data Set Download
EMEA
The quickest flights to Europe and the Middle East. Build and explore your cohort from encounter, diagnosis, medication, and procedure codes, all mapped to common terminologies like ICD-10-CM and LOINC. 
---
Patients
>28M
Healthcare Organizations
>45
Countries
10 (Belgium, Bulgaria, Estonia, Germany, Italy, Lithuania, Poland, Spain, UAE, UK)
Supported Features
Advanced Analytics
TriNetX Connect
Japan Claims
Optimize your trials for the world's third largest pharmaceutical market with on-demand DPC ("Diagnosis Procedure Combination") data, the basis for Japan's national medical service reimbursement system for acute inpatient care.
---
Patients
>39M
Healthcare Organizations
>460 acute care hospitals, including >200 cancer care centers
Countries
1 (Japan)
Supported Features
Advanced Analytics
South Korea
Patients
9M
Healthcare Organizations
27
Countries
1 (South Korea)
Supported Features
Counts and analysis delivered report
Introducing Diversity Lens
Better treatment for all starts with more inclusive trials.
Are your study criteria disqualifying one patient group more than another? By examining the impact of each criterion across demographic profiles, you can better ensure diverse enrollment from the start. That means more generalizable results, more opportunity for patients and providers, and more equity in the future of care.
See how we're helping study designers turn their inclusion criteria into inclusive criteria with diversity lens.