Home > Drug Safety > EVIDEX® Solutions > EVIDEX® Hypercare Support™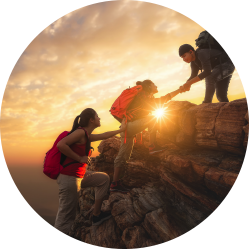 Dedicated to advancing drug safety with better data and better technology.
EVIDEX® is supported by the significant resources of TriNetX, an experienced and robust team of industry thought leaders, data scientist, engineers, and product support specialists. The mission of the EVIDEX® team is to create the future of pharmacovigilance with the rich, global, real-world data that only TriNetX can deliver.
By continuing to provide pharmaceutical manufacturers the most comprehensive data and longitudinal patient details on the most intuitive platform available for integrated signal detection, management, and analytics, TriNetX will continue to raise the bar for what patient safety can be.
Enjoy a more personalized experience and highly responsive customer service.
At implementation, we work with your IT and QA teams to ensure seamless validation and documentation that meets your teams' parameters.
Ongoing data updates and product enhancements are well-planned, communicated, tested, validated, and documented to assure a seamless user experience and ongoing compliance with your internal testing and qualification requirements.
Your EVIDEX® Product Specialist Team is always available to train users, conduct refresher sessions, or answer questions on-demand.
Phone, email, and in-app chat support is provided for all EVIDEX® users along with an interactive, online user guide.
What's Included:
Dedicated Product Specialist Team – Training is an ongoing process and the Product Specialist assigned to your team will be available on-demand. Training can be conducted on-site or through web meetings, or a combination of both. Initial training sessions will be scheduled with all user roles.
Hypercare Support™ – Hypercare Support is offered at the time of implementation and major new releases. Support is offered through a world-class U.S.-based Product Specialist team. Live technical and online support is offered 5:00 AM to 4:00 PM Pacific Time, 8:00 AM to 7:00 PM Eastern Standard Time, Monday through Friday, excluding national U.S. holidays.
Online Knowledge Center and User Guide – The comprehensive EVIDEX® User Guide is available in a searchable, self-help knowledge center, ensuring the most up-to-date information is available for users whenever they need it.
In-Application Chat – Have a question that can't be answered by the User Guide or need a quick tutorial? Live chat with a Product Specialist is available for users during normal business hours for no additional charge.
Ready to take the next step? 
---
EVIDEX® is a registered trademark of Advera Health Analytics, Inc., which is a wholly owned subsidiary of TriNetX, LLC.