EVIDEX® Signal Detection
Home > Drug Safety > EVIDEX® Solutions > Signal Detection
EVIDEX® puts you at the forefront of pharmacovigilance with an unmatched, panoramic view of real-world, global patient data.
Enhance focus on the most relevant data from the most comprehensive sources: hundreds of millions of patient records from a global EHR network, insurance claims, lab results, and other clinical data in addition to normalized data sets from FDA Adverse Event Reporting System (FAERS), VigiBase, EVDAS, and internal ICSR databases.
Enable more efficient detection, refinement, action, and assessment to provide faster answers to drug safety questions.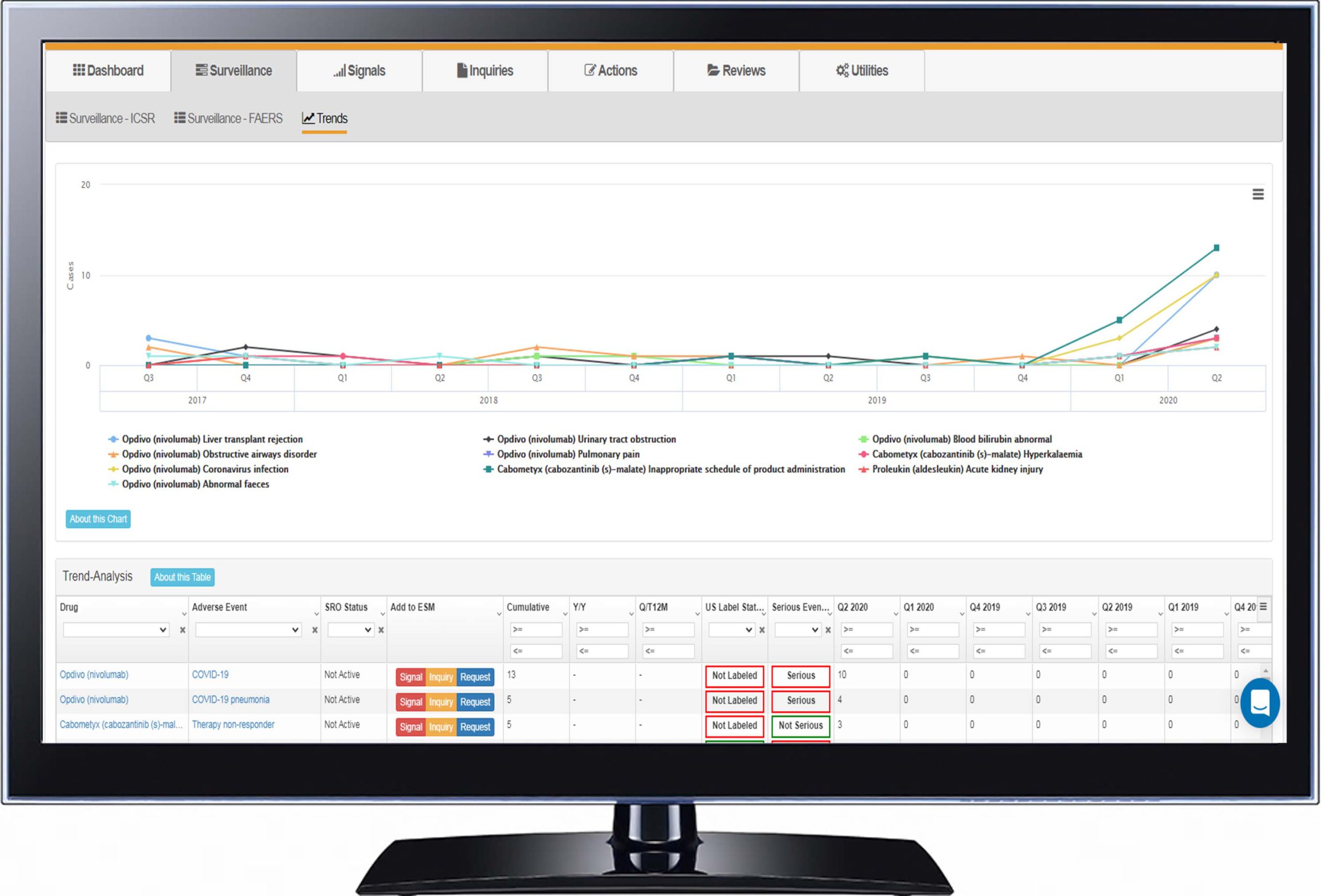 Fresh, clean, and comprehensive real-world data.
Aggregated and harmonized, global clinical data from the TriNetX federated network, as well as claims data, integrated with public data that is processed and prepared to allow you to go broad and deep with greater speed and accuracy. 
What's Included:
Active Surveillance
Prospective monitoring of new product launches with real-world data as well as monitoring internal ICSR databases, FAERS, VigiBase, EVDAS, and more.
Signal Detection
Find and validate new potential signals within real-world data.
Signal Refinement
TriNetX Clinical Sciences team to support and dig deeper into data to evaluate and mitigate existing signals.
Customizable Signal Algorithms
Prioritization thresholds can be configured at the product level based on any number of qualitative or quantitative metrics.
Trend Analysis
Full trend analyses available off-the-shelf. All visualizations and data tables are exportable.
Compare Signal Source Data
Compare different source data for a drug-event combination in one place.
Complex Queries with Case Series Analysis
Perform complex queries to generate custom case series and calculate disproportionality based on any combination of parameters and custom MedDRA Queries. Case Series Analysis currently queries on 12 million+ case reports, returning results in just a few seconds.
Best-in-Class Customer Support
Learn more about our highly responsive customer service.
Ready to take the next step? 
---
EVIDEX® is a registered trademark of Advera Health Analytics, Inc., which is a wholly owned subsidiary of TriNetX, LLC.