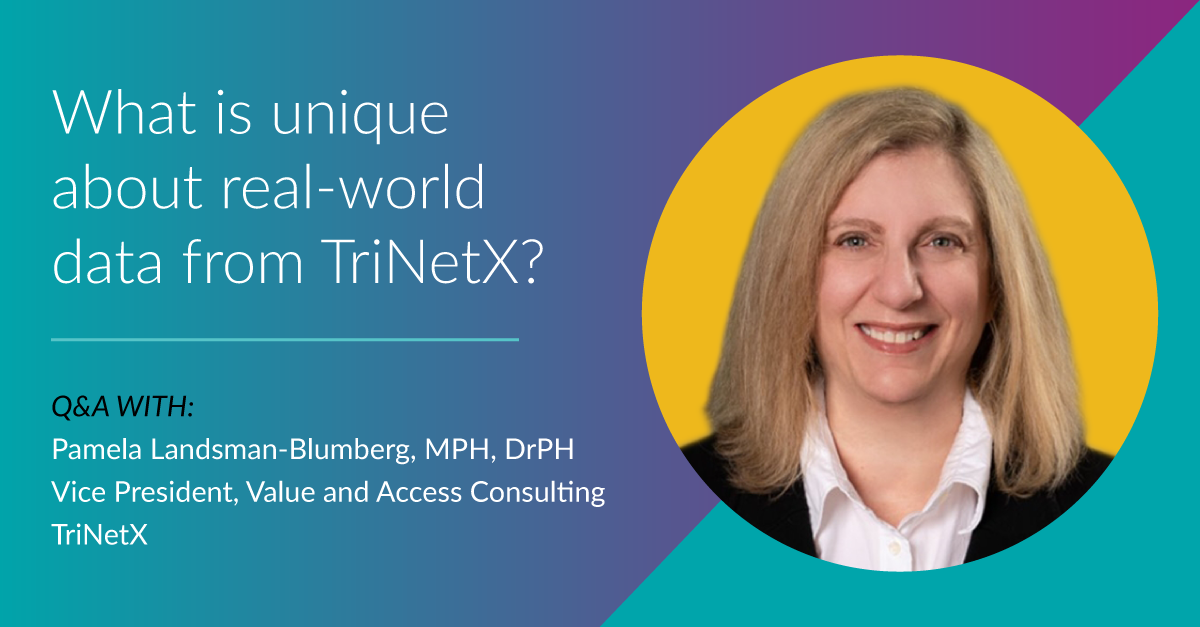 Pamela Landsman-Blumberg, MPH, DrPH is Vice President, Value and Access Consulting at TriNetX. She has over 25 years of experience in the pharmaceutical industry. She currently leads Real-World Evidence, Datasets, and Consulting (RW-EDC), a new business unit within TriNetX. During her career, she has worked extensively in real-world evidence (RWE) generation and strategy, biostatistics, and the application of real-world data (RWD) in clinical trials. Prior to TriNetX, Pam headed up the RWE service line at Xcenda, LLC, and held senior-level roles at Truven Health Analytics, Merck, Pfizer, and the US Department of Veterans Affairs. She received her B.S. in microbiology from UConn, MPH in biostatistics from UNC Chapel Hill, and doctorate in health policy and analysis from the University of Michigan.
1. Please tell us about your role at TriNetX.
My role at TriNetX has evolved over the last two years, but I remain our RWD and RWE subject matter expert working cross-functionally within and outside the organization to identify the many ways our life science customers can use our RWD. Because I have been on both the sponsor and vendor sides of the business, I bring a unique set of experiences having worked with all sources of RWD, some of which have been on the market for 30+ years. Helping our customers learn about our data, the business cases it supports vs. what they are used to working with, or where our data complements RWD sources they may already have available is the most fun for me. I enjoy learning about their business and research objectives and advising them on the data sources and methods that are most appropriate for each need and helping articulate the evidence different studies can provide to develop or support their product's value proposition.
In addition, I now lead our health outcomes research consultancy, RW-EDC, which resides in Clinical Sciences and Operations. We utilize the electronic medical record (EMR) data available through our federated network or captured by medical record abstraction to meet our customers' most pressing RWD and RWE needs. The group consists of SAS programmers, data analysts, epidemiologists, biostatisticians, chart review experts, and healthcare reimbursement specialists; all of whom are seasoned, published HEOR professionals. Although the team focuses mainly on the peri- and post-approval phases of the product lifecycle, there are applications for RWD and real-world studies from drug discovery through patent expiration that TriNetX RW-EDC can support.
2. There are many real-world data sources available on the market. How is TriNetX different?
There is disease-specific EMR and registry data available as well as EMR data sources that are pan-therapeutic. EMR data is often sourced from community-based primary care or specialty care physician practices or individual integrated delivery networks (IDN). It is often difficult or even impossible to follow an individual patient across different practices or RWD sources. If a patient can be followed, often deterministic or probability-based methods are used to link the records. With the exception of IDN-sourced EMR data, information on ED visits, inpatient stays, or even multiple ambulatory providers a patient sees is unavailable. Harmonizing data across sources takes time and EMR, like claims data, may have a time lag which in turn results in a delay in obtaining real-world insights to patients' response to new treatments.
TriNetX data is different. TriNetX has built a federated EMR network of healthcare organizations (HCOs). Queries are submitted and run against data stored within their EMR data warehouse. Most HCOs refresh this data on average every 2-4 weeks, but some refresh as often as daily providing our customers with patient counts and insights in near real-time. TriNetX is also pan-therapeutic and mainly comprised of EMR data from academic medical centers (AMCs) including their affiliated or owned ambulatory physician practices, clinics, main and satellite hospitals, specialized treatment centers, and more. TriNetX is also EMR agnostic, so if multiple EMR systems are used across an organization, this allows our customers to observe patients as they transition to different settings of care within the same HCO as patients will have a single unique identifier across the organization. AMCs and other hospital systems are continuing to grow by buying community-based practices, therefore as the environment becomes more vertically integrated, users are able to observe more facets of the patient journey. Additionally, AMCs are often early adopters of new therapies and procedures, allowing TriNetX users to evaluate the real-world effectiveness and safety of new treatments soon after product launch.
There are also not a lot of data sources available that provide the level of clinical detail that TriNetX does especially for emergency department and inpatient encounters. In addition to looking at the drugs that are administered and the days they are administered, which you can find in hospital charge master data, we also capture laboratory results and vital signs that are recorded throughout the day and stay. For each HCO, we have 10 to 12 years of data on average, and more than half the patients have five or more years of EMR data. When TriNetX onboards a newly contracted HCO, often greater than eight years of EMR history is immediately available.
Finally, TriNetX is truly a global network, with sites under contract in >29 countries. These data are harmonized not only across HCOs, but across countries wherever possible. This makes conducting research within the TriNetX platform much more fluid when moving across those geographies. We also harmonize data coming from outside the EMR, but within or outside the walls of the individual HCO. This includes genomics, tumor registry, NLP, and mortality data. So, again, not only can you move easily between geographies, but also incorporate different sources of data into your query or analysis for deeper insights. We like to say our data is a mile wide and a mile deep.
3. Where does TriNetX provide the most value-add?
In addition to the global reach, freshness, and clinical depth of our data, I would say the most value beyond what other companies offer is our path back to the patient through our Trial Connect offering and relationships with each of our HCOs. Trial Connect is our HIPAA-compliant pathway to identifying the specific sites having patients meeting the study criteria and allowing the sites to identify the specific patients, through an honest broker, who meet them. Using this technology to facilitate chart reviews is a very rapidly growing offering for RW-EDC. Applications include identification and data capture for external controls for single-arm clinical studies, as well as comparative safety and effectiveness studies when you need deeper clinical detail than is available in the standard fields of the EMR. So, if you are looking for disease-specific summary scores or patient-reported outcomes, or you need to review images or read the physician, radiologist, or pathologist narratives, having that pathway back to the site and patient is quite valuable for our customers.
By the virtue of our relationships with the sites contributing their data to our federated EMR network we are able to save valuable time in identifying those sites we know have subjects meeting the study's patient selection criteria. We also avoid contacting sites, other vendors might not be aware that have no eligible patients. In addition, we are currently putting mechanisms in place to streamline contracting with our US sites for individual chart review projects. Chart review for patients outside the US is also an opportunity we are investigating. Finally, our contacts at the sites will help identify one or more investigators who will be most interested in championing the study internally at their site and securing the time of the abstractors.
4. Why should clients think of TriNetX for Comparative Safety and Effectiveness Studies?
One large reason is just the volume of patients whose EMRs we have access to, all de-identified, of course. Take for example a rare disease, or even a rare outcome. Given we currently have access to nearly 132 million patient EMRs worldwide and our network is growing, you should find patients eligible for study. We have anecdotally heard from customers that believed they would have to pool data from multiple vendors, only to realize that it is possible to fulfill the RWD needs for many studies with TriNetX alone. This along with the freshness, longitudinality, clinical depth, global patient capture, and other attributes we discussed previously, makes TriNetX the ideal data source and research partner for comparative effectiveness and safety studies as well as other RWD study designs and RWE analysis solutions.
5. If somebody reading this would like to learn more, where should they go?
Please email us at join@trinetx.com. We would love to speak with you and see what solutions TriNetX has to help meet your research or business objectives.