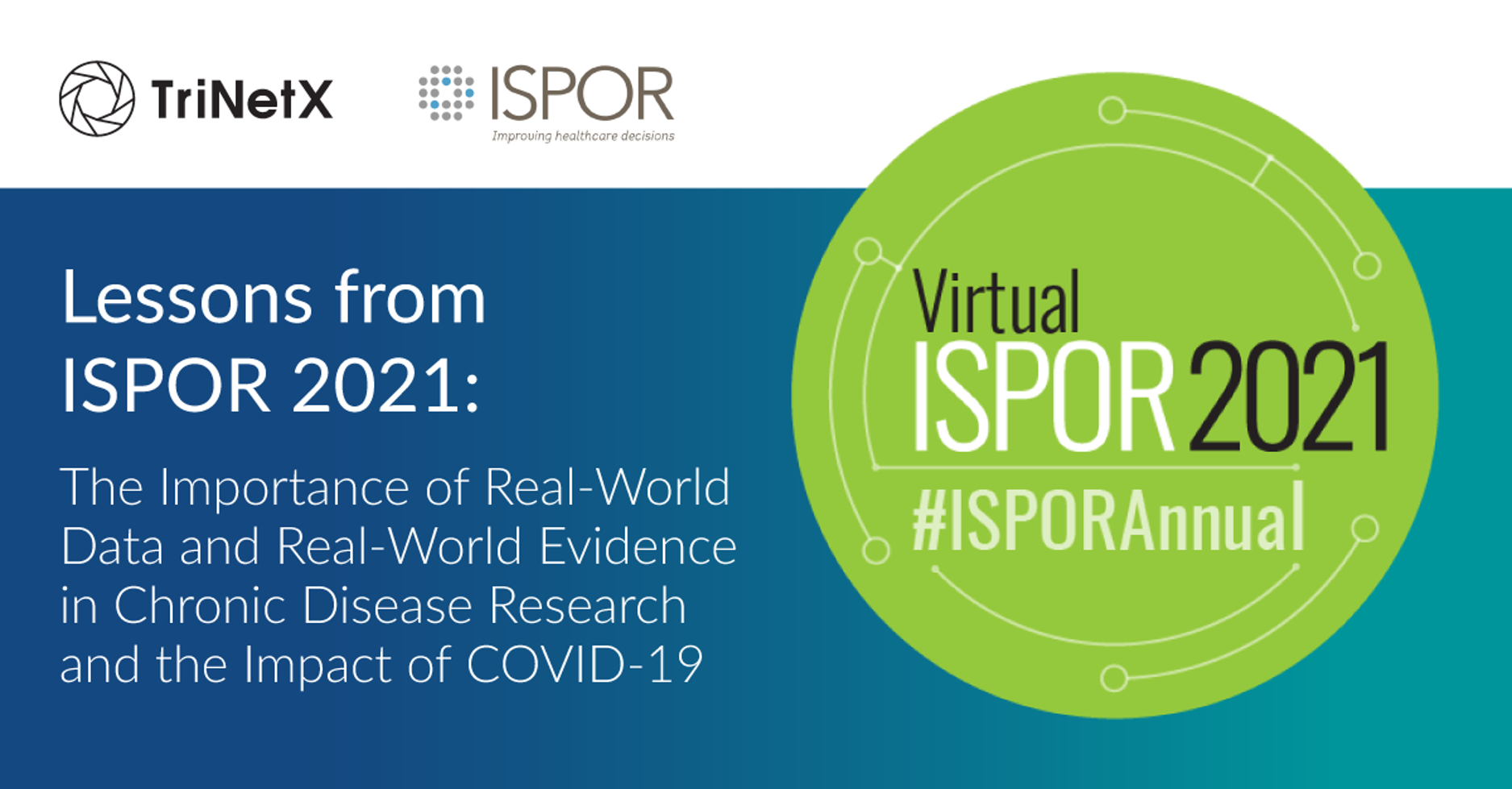 This is the second in a series of three posts on the lessons learned from key presentations at the recent ISPOR 2021, specifically as they relate to real-world data (RWD) and real-world evidence (RWE). Our first post focused on the increasing acceptance of RWD and RWE in regulatory decision-making. In this post we looked at the impact of RWD, RWE, and COVID-19 on chronic disease research.
The growth in use of RWD and RWE for regulatory decision making is not the only area where they are making an impact. RWD and RWE are also playing an increasingly important role in the R&D of various disease treatments. While this impact may be substantial, researchers must also consider the impact COVID-19 has and will have on RWD and RWE generation.
Impact of RWD and RWE on Chronic Disease Research
The use of RWD and RWE in cancer research tends to garner the most attention, but chronic conditions make up a significant amount of healthcare spending. RWD is now leveraged in areas such as dermatology, rheumatology, and mental/behavioral health. The evolution of registries to data networks, quality standards, advances in machine learning, and natural language processing (NLP) are all playing a part in accelerating research for diseases that plague millions of patients around the world. The use of RWD and RWE helps in measuring outcomes and personalizing care for chronic disease patients.
RWD is used to inform, not to replace clinical practices. There are a number of areas in which RWD already made an impact and continues to be utilized for chronic disease research including:
Identification of patients with rare disease
Clinical trial protocol planning
Chronic disease activity estimation
Disease progression prediction
Medication tolerability
Clinical decision support
The COVID-19 Effect  
As the COVID-19 virus began its insidious spread across the globe in early 2020, researchers scrambled to learn about the disease in order to identify existing therapies to mitigate the impact in hospital ICUs and uncover vaccines that would help end the pandemic. Increasingly, RWD has been used to map the progression of the disease and to discover immediate treatments. The effectiveness of the use of RWD made a significant impact during the pandemic and continues to play a more significant role in the treatment of infection.
There are a number of things to consider as we assess the broader impact of COVID-19 on the healthcare industry, in particular on the ability to generate RWE.
Methodologic Challenges
Definitions of historically standard measures such as treatment adherence and switching in non-COVID diseases likely need to differ during the year of the pandemic. For example, a change in route may not reflect a clinical decision based on a health-related event, but may reflect ease of delivery (moving from an IV to an oral) as physicians saw less patients in their offices. Definitions of adherence may also need to change. The time between office visits may lengthen to avoid possible exposure to COVID-19.
RWE Generation
For time-to-event analyses that span across part or all of the pandemic, patients may have chosen to delay receiving chronic or emergency care. An extended time to the recording of an outcome may reflect this behavior, and not be evidence of a biological pattern. Physicians, hospitals, and patients also postponed non-emergent procedures such as cancer screenings which could lead to delays in diagnosis and as well as disease progression.
Social distancing, mask-wearing, and spending less time outside may also lead to fewer individuals seeking care for colds and flu, asthma exacerbations, and other respiratory conditions. Rates of anxiety, stress-related disorders, and substance use have already been shown to have increased during this time which lead to increased rates of adverse consequences. In all cases, causal relationships between changes in behavior (i.e., mask-wearing, or social isolation) and healthcare visits will be difficult to disentangle from patient hesitancy to seek care.
As noted, healthcare visit patterns changed over the course of the pandemic, with more patients visiting urgent care centers and physicians adapting part of their practices to accommodate telehealth visits. Historically telehealth was provided by nurses and physicians employed by independent companies. Patients were encouraged to use these services for more benign and acute illnesses especially in areas urgent care centers were not available or during hours they were not open. It will be some time before knowing if these care patterns are a transient or permanent change to healthcare delivery.
Challenges in Identifying Appropriate RWD Sources
While most concerns about the use of RWD and RWE would start with the former, this blog post ends with it instead. The discontinuity of care could impact the completeness of RWD sources such as EHR if those of urgent care providers are not tied to a patient's usual source of care. Additionally, enrollment in claims data may be inconsistent if the source of claims and insurance coverage was tied to employment. Requiring continuous enrollment, a common method in claims data, may exclude patients with less stable employment over the course of the pandemic.
Just how researchers, payers, providers, and regulators will consider the disruption of care as a result of the COVID-19 pandemic with respect to evaluation of RWD sources, application of standard methodologies, and interpretation of the RWE generated for evaluation periods that include the time period of the pandemic remains unclear. However, at the same time, RWD and RWE have been experiencing increased acceptance across many stakeholders specific to drug development, drug approval, and healthcare delivery. Therefore, it is even more important that stakeholders resolve and come to agreement on how to account for the challenges brought on by the pandemic.
In the third post of the series, we will look at the growing influence of real-world data and real-world evidence around the globe.
Content for this blog post was derived from the following ISPOR 2021 Presentations:
Beyond Cancer: Moving to High-Quality Real-World Data in Chronic Diseases, Moderator, Gary Curhan, MD, OM1; Speakers, Terrie Livingston, PharmD, EMD Serono; Marta Van Beek, MD, MPH, University of Iowa Hospitals and Clinics; Kathryn Starzyk, OM1
Real-World Data and COVID-19—How Will Your Evidence Generation Strategy Change in a Post-Pandemic Era? Moderator, Tina Moen, PharmD, IBM Watson Health, Denver, CO, USA; Speakers, Brenna Brady, PhD, IBM Watson Health, Laurel, MD, USA; Martin Marciniak, RPh, PhD, MPP, Chiesi USA, Inc., Cary, NC, USA; Bill Saunders, MPH, PhD, IBM Watson Health, Cambridge, MA, USA; Joseph Tkacz, MS, IBM Watson Health, Bethesda, MD, USA