Advanced Analytics
Home > Drug Safety > EVIDEX® Solutions > Advanced Analytics
Discover what is next in drug safety.
Easily dashboard data to visualize and uncover patterns, correlations, trends, patient preferences and additional insight to help your organization make informed business decisions.
Next Level – Comprehensive, global, real-world data combined with clean public data that has been optimized for advanced analysis.
Next Generation – Intuitive user interface, data visualizations, interactive charts, and real-time dashboarding capabilities that allow you to recommend action and exchange information with clarity and transparency.
Next Step – Evolving with your needs to enable your team to be a center of knowledge for driving value in the early and later stages of the drug development life cycle.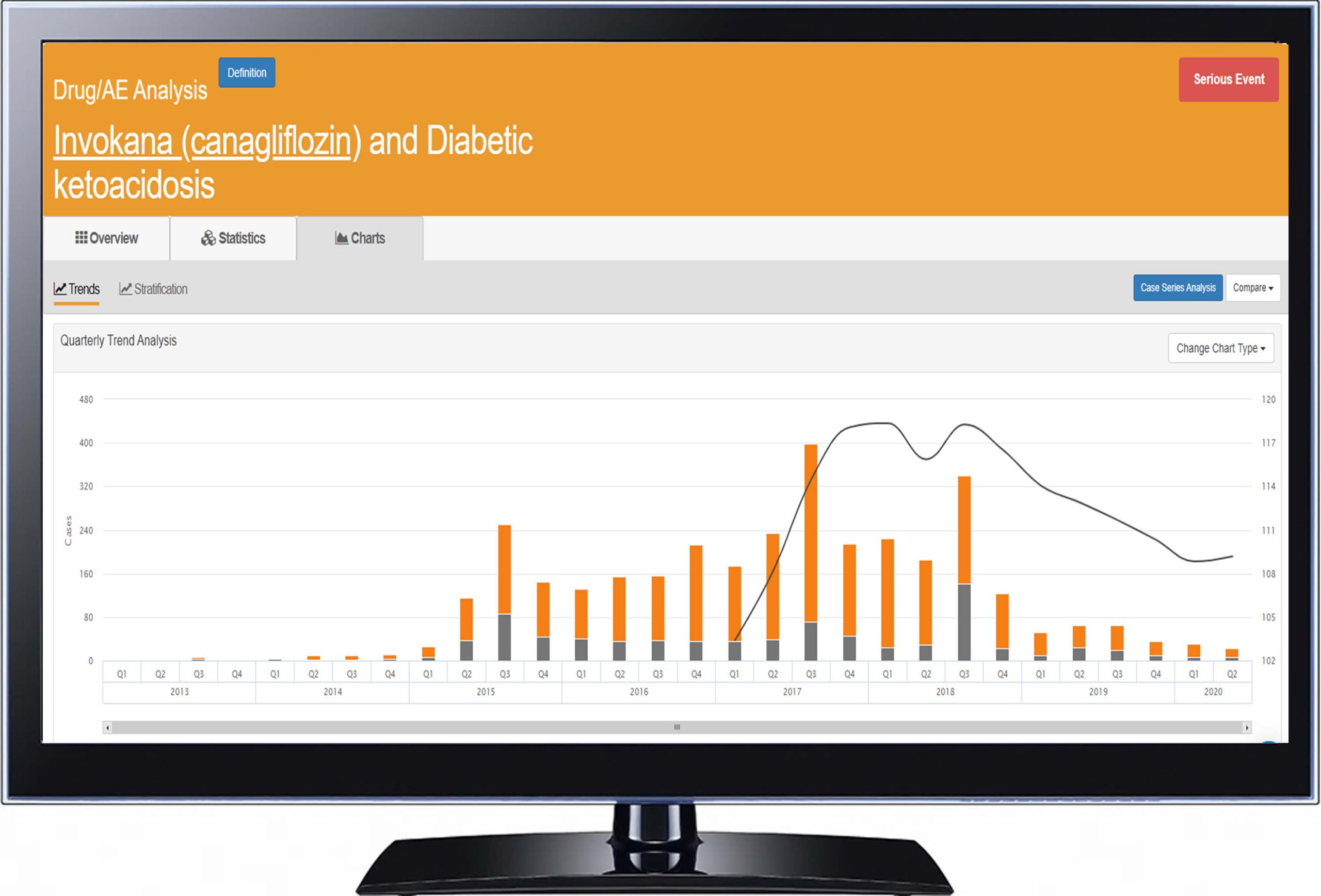 Unlock the true value of safety data.
Learn why life science organizations of all sizes trust EVIDEX® for integrated signal detection, management, and analytics.
What's Included:
Data Integrations
The ability to combine rich, comprehensive, real-world data from around the globe, with internal ICSR databases, FAERS, VigiBase, EVDAS, Clinical Evidence Database, and other public data makes EVIDEX® a clear choice for pharmacovigilance (PV) teams that want to provide the highest level of drug safety to patients and drive greater value for their organization at every stage of the drug development life cycle.
Gold Standard UX/UI
We believe in creating software that people want to use and believe that you shouldn't have to be a data scientist to access and gain insight from drug safety data.
Multi-Source Analytics
Use multi-source comparisons and advanced analytics to extract insight from multiple data sets.
Background Rate Calculator
Calculate background rates for specific patient populations using real-world data within the EVIDEX® PV platform to assist with signal assessment.
Risk Minimization
Study to evaluate efficacy of risk minimization plans. Show how to enhance existing processes and interventions.
Best-in-Class Customer Support
Learn more about our highly responsive customer service.
Ready to take the next step? 
---
EVIDEX® is a registered trademark of Advera Health Analytics, Inc., which is a wholly owned subsidiary of TriNetX, LLC.