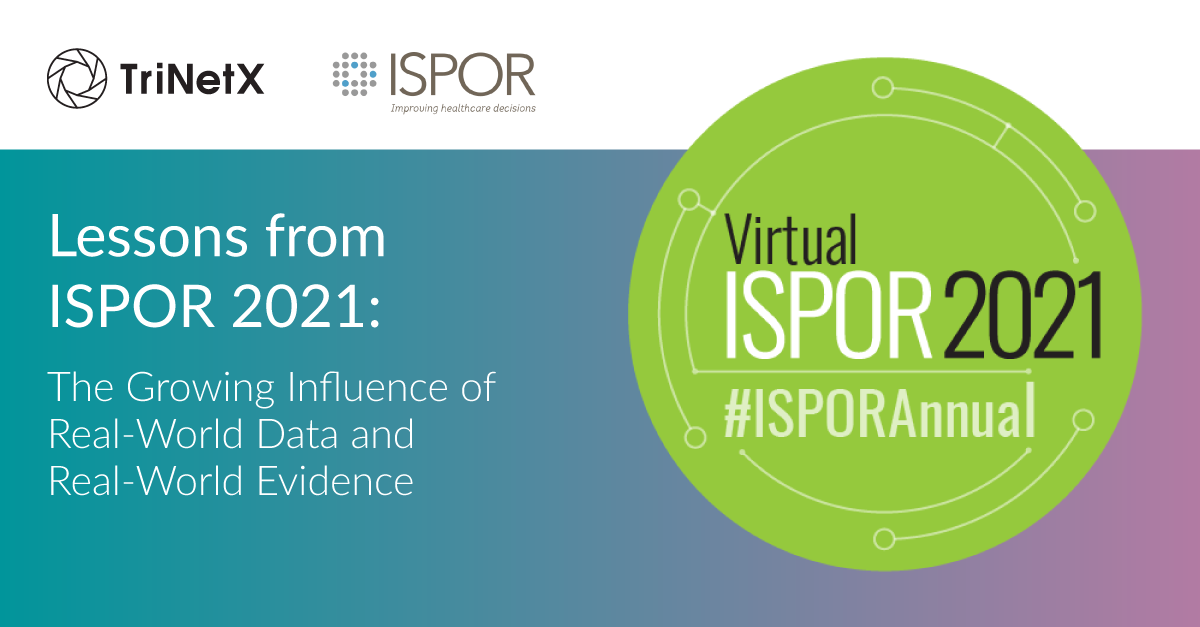 This is the third and final post on the lessons learned from key presentations at the recent ISPOR 2021 virtual conference, specifically as they relate to real-world data (RWD) and real-world evidence (RWE). Our first post focused on the increasing acceptance of RWD and RWE in regulatory decision-making and our second dealt with the importance of RWD and RWE in chronic disease research and the impact of the COVID-19 pandemic. This post concludes the series by discussing the growing influence of RWD/RWE in many other areas and around the globe.
Some of the most prominent and visible roles of RWD and RWE are regulatory and clinical decision-making and disease research. However, RWD and RWE have been growing in influence in many other areas of healthcare and in regions all over the world. Two examples are the impact on the health economics and outcomes research (HEOR) landscape and in the new framework being developed in the Asia Pacific region.
Growing Impact of RWD and RWE in HEOR
An interesting new array of HEOR collaborations are being developed with the goal of addressing the many challenges countries and their health systems are facing. Regulators, payers, and providers are all looking to create partnerships that leverage existing and new data sources. This new thrust from the HEOR community has elevated the focus on and need of reliable RWD to generate necessary RWE.
The need for RWD in HEOR is expanding, however the need must be fulfilled with data of high quality and validity. There must be transparency and clarity of  its original source and reliability of the data being analyzed. There is also a greater need for data to support longitudinal evaluations, and research on new and emerging diseases, biomarkers, therapies, and technologies. We must also explore alternative data that have recently become available to help stakeholders understand new and existing medical products and their context. Finally, it is critical to get timely, efficient data streams that fuels the kinds of questions that most need answers today and which inform the choices that may be available to stakeholders in the future.
There is also the need for augmentation of RWD sources to get a better understanding of the patient perspective. Data aggregators have done a great service by showing that it is possible to gather large amounts of patient-level data and link them using solutions like tokenization. Although there are differences in sources and quality of data, overall data aggregators must have a proven track record, be transparent in their linkage processes, and provide accurate statistics on their rates of matching patients across different sources.
As more data becomes available for HEOR research, we must continue to focus on ensuring individuals' privacy. However, we must be careful not to put too many constraints on the collection and use of data making it more difficult to answer the questions that ultimately help patients receive the optimal treatments specific to them. In the U.S. for example, if the aggregated data are certified as HIPAA compliant, we can be fairly confident that patient privacy is being protected.
Quality, transparency, and security need to be the watchwords when it comes to RWD. Working together, all partners in the HEOR data universe can overcome the current problems and ensure the future is better than the past. The biggest enemy is complacency and inertia, and our biggest advantage is the willingness to take risks to benefit patients and society as a whole.
Frameworks for RWE in Asia Pacific
More evidence of the growing influence of RWD and RWE is its expansion worldwide as a resource to help healthcare providers and patients take advantage of innovative technologies. Nowhere is this more evident than in the Asia Pacific region where many countries have begun leveraging RWE for healthcare decision-making. Since generating reliable RWE depends on effectively and consistently collecting, analyzing, and incorporating RWD, experts in 11 Asian health systems have launched the REALISE Project to develop a guidance document on the use of RWD and RWE to help inform healthcare decisions in the region.
One of the major reasons for the initiation of the REALISE Project is the lack of Asian representation in pivotal randomized controlled trials (RCTs). REALISE will enable the use of RWD and RWE to help fill this gap with representative patient demographics. Another driver is the fact that currently many agencies in Asia Pacific are only using RWE as supplementary information. This led to concerns of possible selection bias and confounding.
REALISE aims to determine and recommend where the use of RWD is most appropriate. This includes in rare disease research, for inadequate RCTs, and for reevaluation of prior decisions. The document will provide direction on the types of data to be collected, where data can be sourced, and the most appropriate way to gather it. It will also provide references for methods to deal with confounding, selection bias, and missing data when analyzing RWD. The goal is to disseminate the guidance document through publications and speaking appearances at conferences such as ISPOR.
South Korea is already leveraging the power of RWD and RWE using claims data from the country's single payer national health insurance program. Researchers are also collecting clinical data from public agencies, hospital EMRs, and post marketing surveillance. The data and evidence generated are being used for approval and coverage decisions by public agencies and by industry to prepare regulatory submissions and dossiers. 
RWD and RWE is being used in South Korea to inform and evaluate risk sharing agreements for anti-cancer therapies and other therapies for life threatening conditions.  They are increasingly also viewed as a solution to making high-cost drugs more accessible to patients in the country.
Some challenges South Korea is currently facing include the lack of drug effectiveness evaluations after approval and industry complaints that the approval process is too long and arduous. One way to address these challenges is through a proposal for the use of RWD to introduce a new system of post-reimbursement evaluation of high-cost drugs.
The activity in Asia demonstrates that the power of RWD and RWE is expanding rapidly and will soon become accepted and utilized around the globe to enhance healthcare research.
Many of the sessions of ISPOR 2021 illustrated the heightened importance of RWD and RWE in a wide variety of healthcare applications. As RWD becomes more available, validated, and reliable, its importance will take on an even bigger role in RWE generation as a critical tool for the research community.
Content for this blog post was derived from the following ISPOR 2021 Presentations:
Stepping Up to the Challenge—How Novel Collaborations and New Players are Reshaping the HEOR Landscape, Moderator: Robert Califf, MD, Verily, Google Health, South San Francisco, CA, USA; Speaker: Amy Abernethy, MD, PhD, U.S. Food and Drug Administration, Silver Spring, MD, USA; Carolyn Bradner Jasik, MD, Omada Health, San Francisco, CA, USA; Dipak Kalra, MBBS, PhD, The European Institute for Innovation through Health Data, Ghent, LAN, Belgium; Harlan Krumholz, MD, Yale University, New Haven, CT, USA
Exploring New Frameworks for Real-World Evidence (RWE) Best Practices in Asia Pacific- the REALISE Project, Moderator: Jeonghoon Ahn, PhD Ewha Womans University, Seoul, Korea, Republic of (South); Speakers: Amanda Adler, MD, PhD, FRCP, National Institute for Health & Care Excellence (NICE), Fowlmere, United Kingdom; Jeonghoon Ahn, PhD, Ewha Womans University, Seoul, Korea, Republic of (South); Hwee-Lin Wee, PhD, National University of Singapore, Singapore